Puppies
At Craigh na Dun - Kennel
(located at Southern Denmark) Puppies were born. 3 males are still available and looking for their forever homes. Further infos on this link: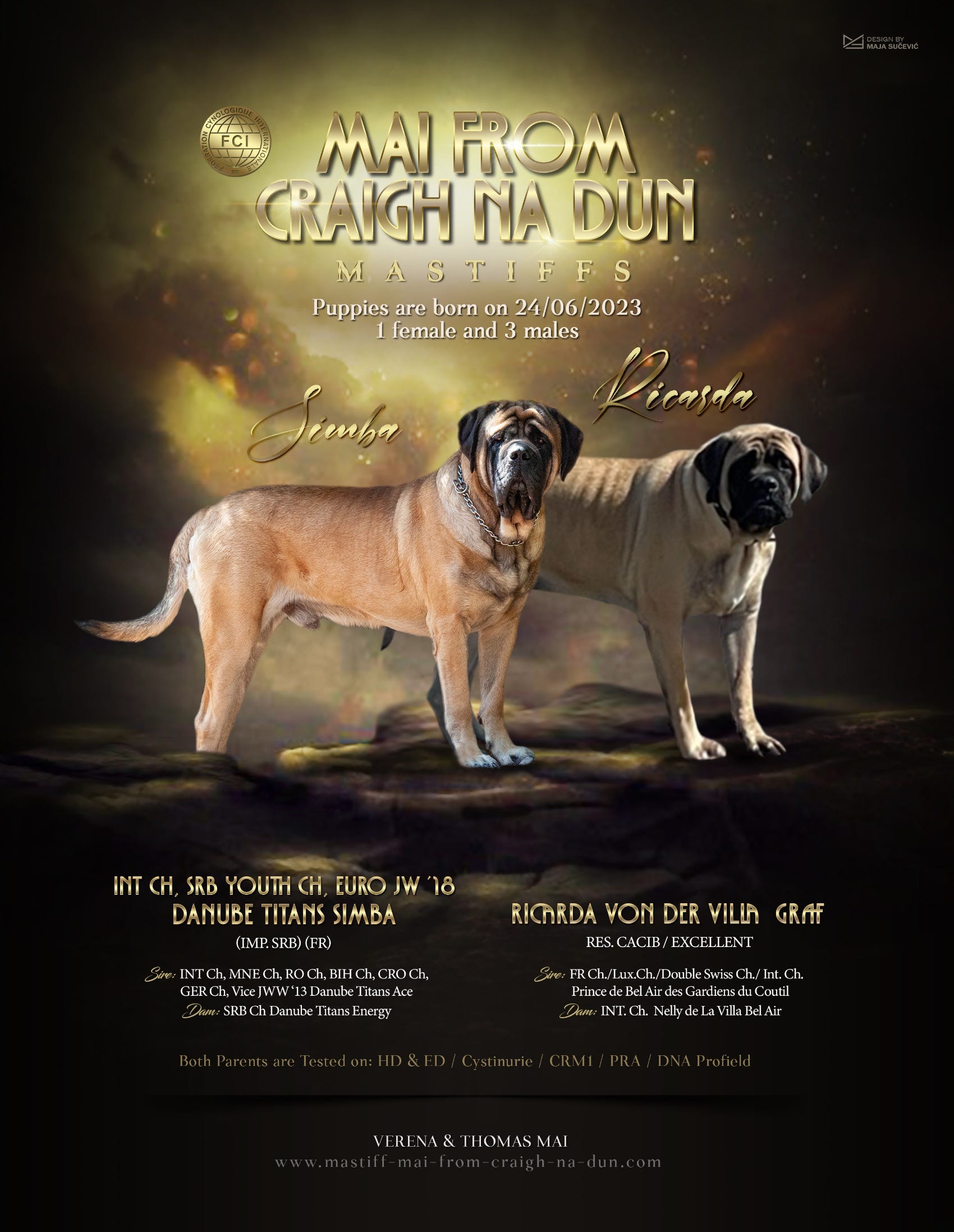 Puppies are born
On 30th May 2023 our Nelly has given birth to her puppies:
2 boys + 2 girls, all with a fawn coat.

All 4 babies have found their forever-family.
William
TI AMO WILLIAM VON DER VILLA GRAF
received an Excellent 1st + the title European Club Junior Winner and finally made 4th Best Male in Show at the Danish Club Championship Show
on 21st May 2023.
He also reveived the special prize for
Best Movement in Show.
Top Dog 2023 Competition
of Vos chiens magazine (F)
3 of our dogs are placed unter the 5 Best Dogs of France,
according to the French Dog Magazine Vos Chiens:
TOP 1: Multi Ch. Toscano del Fracasso
TOP 2: Multi Ch. Royal Edition from Big Boy´s Club
TOP5: Multi Ch. Prince Bel Air des Gardiens du Coutil
Junior champion
We send our dearest congratulations to Gina Slotboom-Lemke (D) for having obtained the title GERMAN JUNIOR CHAMPION (VDH)
for her girl: TRUE HOPE DE LA VILLA BEL AIR.
Mult Ch. & Multi Veteran Champion JULIANE LA REIN DE LA VILLA BEL AIR
became BEST VETERAN at Crufts dogshow in Britain.
At the same time we received the confirmation for her latest title:
International FCI Veteran Champion.

A girl with almost 9 years!